Visit the Music Palace in Valencia

The Music Palace in Valencia (Called Palau de la Música in Valencia) is a building in the city of Valencia, in the old Turia riverbed. The Palau (as he is popularly known) has several rooms for musical performances, conferences, exhibitions, performances and film screenings, and other activities.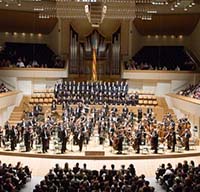 Designed by José María de Paredes, National Prize for Architecture and architect of other audiences such as Madrid and Granada, the Music Palace in Valencia was inaugurated on April 25, 1987. Since then, the Music Palace has emerged as one of the most emblematic buildings of the city. More than 500,000 spectators each year, speak for themselves auditorium popularity, now considered one of the most important musical centers of Europe.
Transparency is the means adopted by the architect in this unusual experience. A huge glass dome, which runs parallel to the river, serves as main access without hindering its visual axis.
The the Music Palace involved the landscaping of the Turia and the will of that water, the ultimate meaning of the existence of the river, is present. Trees grow green spaces inside the lobby, a real greenhouse, while the glass waterfall seems to pour directly on the pond that Ricardo Bofill designed for this stretch of the old riverbed against the the Music Palace.