Visit the Lonja in Valencia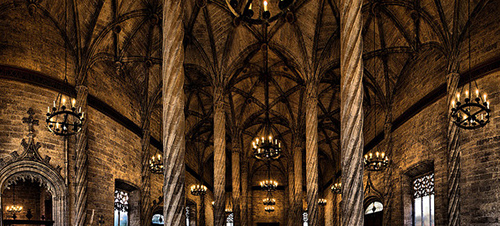 The Lonja of Valencia is one of the landmarks of the city, a masterpiece of Gothic civil architecture. Construction began in 1483 under the project of master builder Pere Compte. The set consists of three bodies, observed from the market square, first would include hiring hall followed by the central tower on your left, the Consulate of the Sea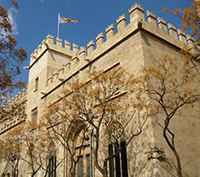 The living room Columnario or Recruitment room began in 1483 and consists of a large room divided into three longitudinal aisles by spiral columns. The building is designed as a temple to trade and has a highly symbolic, which wanted to see the representation of paradise where the columns would be the trees and domes represent the celestial dome. The municipality installed here «taula de canvis» for current banking operations.
The central tower has a ground floor and two upper floors, originally engaged in prison declared bankrupt merchants.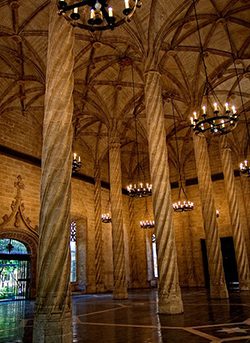 Complete assembly of the Sea Consulate building, built in 1498 under the direction of Pere Compte who died without seeing it completed. Several teachers continued the work after his death, in 1548 finalizándolas. It should be noted at the top of the façade gives onto Market Square run gallery forty arches and medallions depicting the bust of Roman emperors and illustrious characters, all from the Renaissance period. To better see these details go to the street, next to the Church of Santos Juanes, which will have a better perspective of the whole.
Every Sunday is held in the Market of Valencia an exhibition of stamps and coins.