Visit the Art Palace Reina Sofía in Valencia
The Arts Palace Reina Sofía, majestic building designed by the Valencian architect Santiago Calatrava, is presented as a highly symbolic sculpture.
The innovative architecture of this building, of more than 40,000 m2 and a height of 75 m, houses four performance spaces for opera, music, ballet and theater.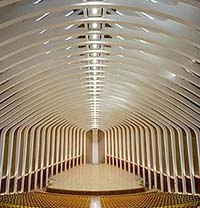 There cantilevered platforms at different heights, with walks and greenery, which is accessed by panoramic lifts and stairs located inside metal housings on both sides of the building. The contrast between the opaque sheet steel housings and transparency of the vast conservatories produces feelings changing to tour the building.
A metal structure in the form of a feather starts concrete pylon located on the access gateway. This elevated walkway, which you can climb stairs by two rampant, is 56 m long and is located on the west side of the building. From the main entrance, where is located the locker area, there are two symmetrical side corridors leading to the great hall of the Main Hall.
The overall shape of the building is lenticular and developed under a waterfall metal supported by two supports, leaving the east side of the cantilever completely covered.
The material of choice is the white concrete, covering the major structural supports of the building, while the mosaic is the second most widely used materials by coating covers the spectacular Palace.
The Palace is surrounded by 60,000 m2 of gardens and 11,000 m2 of water surfaces with surrounding walks.