Visit the Agora in Valencia

The Agora is the new icon of the City of Arts and Sciences, a versatile space that can accommodate events of various kinds. A multifunctional stage designed for congresses, conventions, concerts or performances, with the potential to become exhibition area. In recent years, this building has successfully hosted the celebration of the Valencia Open 500 tournament tennis, a major international sporting events.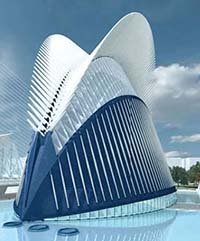 During 2010, the Agora became the scene of Spain Burn Freestyle Cup, a competition involving the best drivers in the national and international scene. Also held in its facilities Christmas special programming of the City of Arts and Sciences, which included ice skating plus children's shows.
Notably, the Agora has welcomed the Valencia Fashion Week (VFW), where Valencian designers show their fashion ideas.