Sweet food of Valencia: Toña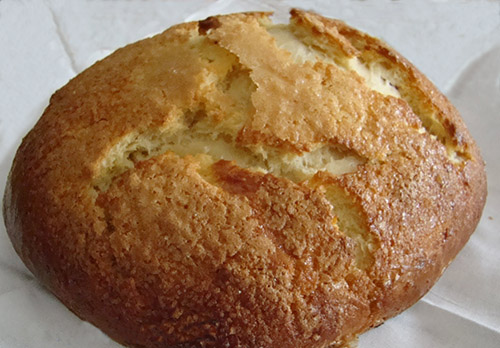 Round cake prepared with dough made of flour, cooking oil, eggs, sugar and grated lemon, which, after painting it with egg, have to be baked in the oven. Finally, it is sprinkled over with caster sugar.
Ingredients:
500 g bread flour
140 g sugar
75 ml cooking oil
75 ml milk
3 eggs
25 g yeast for bread
Cinnamon and grated lemon
Orange blossom essence
Preparation method:
Heat the oil with a lemon peel and then leave it to cool.
Dissolve the yeast in the milk.
Mix eggs, sugar, yeast dissolved in milk, cinnamon and grated lemon.
Add the orange blossom essence.
Sift the flour and add it.
Cover it with a tea towel and leave it to rise intul the dough is twice its original size.
Knead the dough and leave it to rise again until it is twice its previous size.
Divide into two balls, then place them on bakery paper and finally brush with egg.
Sprinkle over with wet sugar and put it into the oven to 180th to half a height during 20 minutes approximately.
It is one of the Christmas specialties in the localities in South of our community. There presents varieties, according to the people, as the «toñas finas» from Jijona, which has some anise in the dough, or the «toñas of potato», typical of Biar, where people add mashed potatoes to the dough before placing it in the oven. In other towns, like Orihuela, scald the flour in very hot oil before kneading it. Sometimes also they add honey.
In Lost in Valencia you can see more Valencian sweet food