Sweet food of Valencia: Greaves Cake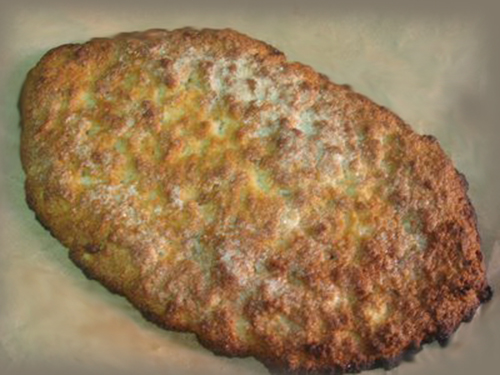 The development varies according to the regions, but the result is similar. Add the butter, greaves and lemon zest into the dough, until obtaining a fine elastic texture. When the dough has risen form pancakes of desired size, sprinkle sugar and cinnamon on top and put it in the oven.
In some areas of Alicante the people add some butter into the dough making folds with a roller. Also they put greaves in the folds and on top, together with the sugar and the cinnamon. Its conservation is quite long, although it depends on the amount of butter needed for the preparation.
Ingredients:
400 g flour
100 g lard
2 eggs
Lemon zest
250 g greaves
10 g yeast for bread
150 g sugar
Ground cinnamon
A pinch of salt
Preparation method:
Sift the flour and the yeast, put them on a work surface, form a volcano in the center and add eggs, lard, the chopped greaves (leaving a few for garnish), a teaspoon of cinnamon and a pinch of salt.
Knead to achieve dough that does not stick to the hands, cover it with a kitchen towel and let rise for 30 minutes.
Next take the dough and stretch it with a floured roller. The dough thickness must be 1 finger approximately. Cut into rectangles and put on a baking tray covered with baking paper, sprinkle on top with sugar and the rest of the greaves.
Then put in the oven preheated to 170 degrees, and bake it for about 30 minutes.
In Lost in Valencia you can see more Valencian sweet food