Sweet food of Valencia: Friar balls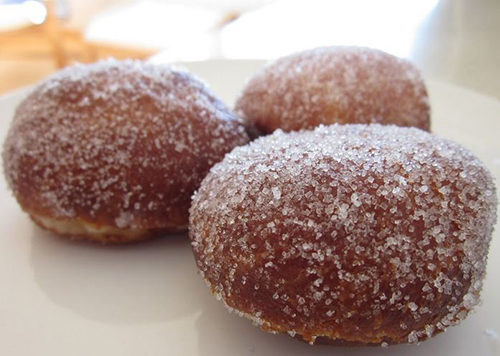 It is typical sweet of the province of Castellón, where they are appreciated very much.
They consist of pastry enriched with milk, fried slightly in oil, filled with pastry cream and rolled in sugar.
Ingredients for 4 people
A glass of oil
A cup of sugar.
Glass and a half of milk
1 egg.
Yeast.
Cream ingredients:
2 cups of milk.
2 egg yolks.
2 tablespoonfuls of flour.
Sugar.
Preparation method:
Knead in a bowl the oil, sugar, milk, egg, a little yeast and all the flour that the mixture supports to be thin and not too hard.


Divide it into parts forming small balls, less than 3 cm in diameter, and let them rise for half an hour on a damp cloth in a warm place.


Fry the balls in abundant hot oil until they get golden brown color and let them cool down.

To prepare the cream warm in a frying pan the milk, egg yolks, flour and sugar. The mixture must be mixed without stopping.


When the ingredients are well mixed forming a cream without lumps, remove and let it cool down.


Finally, cut the balls in half and fill with cream.

Roll them in sugar.
In Lost in Valencia you can see more Valencian sweet food