Devesa Beach in Valencia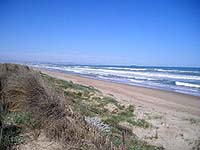 Secluded beach, although a variety of services available, located in the heart of the Natural Park of Albufera of Valencia.
Located in the Albufera Natural Park, between the 'golas' of Puzol and Perellonet, this beach is the only beach town wild. With its 5000 meters of length is in the area of ​​greatest protection Master Plan for Use and Management of the Natural Park of Albufera «PRUG». The extraordinary natural environment with a rich ecosystem in which gaps and meshed with (depressions between) are interspersed all vegetation, pines, palmettos, Kermes oak, mastic and honeysuckle that give shelter to numerous birds, this gives a great attraction for conservation and protection of natural resources.